Friday, September 1, 2023 / by Alicia Vidal
Imagine waking up to the soothing sound of waves crashing against the shore, knowing that your property isn't just a picturesque oasis – it's a smart investment. Welcome to the world of rental property ownership along the stunning Alabama and Northwestern Florida coast, where every sunrise brings not only breathtaking views but also the promise of financial growth.
Owning a rental home isn't just about having a slice of paradise to call your own; it's about unlocking a multitude of benefits that can lead to long-term wealth and security. As your trusted real estate partner, we're here to shed light on the incredible advantages that come with being a rental property owner. From passive income streams that flow in even as you sleep to the art of tenant screening that ensures your property is well-cared for, we're excited to guide you through the journey of turning properties into powerful investment assets.
So, whether you're a seasoned investor seeking to expand your portfolio or a first-timer ready to dip your toes into the world of real estate, let's explore how rental property ownership can pave the way to financial freedom.
Join us on this exciting adventure as we dive deep into the world of rental property investment along the enchanting Gulf Coast.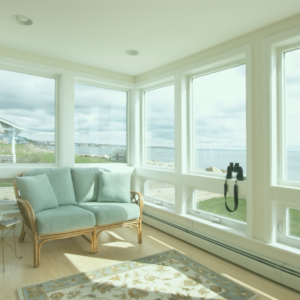 The Perfect Property Match: We're not just about real estate; we're matchmakers between you and the investment property of your dreams. Our expert Pointe South team helps you find that ideal gem that aligns with your goals and financial aspirations. From cozy beachside condos to charming vacation getaways, we've got options as diverse as the stunning Gulf Coast itself. Start your search here: For Sale on the Gulf Coast
Invest with Confidence: We know the ins and outs of rental property investment like the back of our hand. Let us guide you through the rental market trends, ensuring you're armed with the latest insights to make informed decisions. Our goal is to set you up for success right from the start, with properties that promise not only picturesque views but also healthy returns.
Tenant Screening Excellence: Quality tenants are the backbone of a thriving rental venture. Our stringent tenant screening process guarantees reliable renters who treat your property as their own. Say goodbye to sleepless nights worrying about late payments or property damage – we've got you covered.
Cash Flow Brilliance: Let's talk about that sweet sound of cash flow – the heartbeat of rental investments. Our strategic management ensures your property remains a cash flow generator, with expert oversight on everything from maintenance to rent collection. Sit back, relax, and watch your investment flourish.
As you ride the waves of this rental property investment journey, know that your aspirations are within reach. With each property you add to your portfolio, you're not just acquiring a physical space – you're embracing a wealth-building strategy that has the potential to transform your financial landscape. The Gulf Coast's allure goes beyond its breathtaking scenery; it carries the promise of passive income streams that can provide financial security for you and generations to come.
From tenant screening that ensures peace of mind to rental market insights that keep you ahead of the curve, our commitment here at Pointe South is to empower you every step of the way. Your dream of building a profitable rental property empire is no longer a dream – it's a tangible path to success that we're honored to walk with you.
So, whether you're drawn to the Gulf Coast's charm, seeking the thrill of real estate investments, or yearning for a secure future, you've embarked on a remarkable journey. The sunsets over the coastline serve as a reminder that your financial goals are as attainable as the horizon – endless and full of promise.
Get ready to turn properties into prosperity and dreams into realities. Let's ride these waves of opportunity together and craft a legacy that will stand strong against the tides of time. Reach out today, and let's make waves in the world of rental property investment! So, if you're ready to ride the wave of rental property investment, join us on this exciting journey. Reach out today and let's start turning those investment dreams into a sun-soaked reality!
With Pointe South Rentals and Real Estate, you're not just finding a place to live; you're finding a property that meets your needs.
Call or email us today to begin your property search!
Call us at 850.492.1148 or email us at contact@pointesouth.com
---