Thursday, July 27, 2023 / by Alicia Vidal
Hey there, Florida and Alabama coastal homeowners and renovation enthusiasts! If you're planning to revamp your space on the stunning Emerald Coast, we've got some brilliant ideas to take your renovation project to the next level. At Pointe South Rentals & Real Estate, we understand the importance of creating a dreamy living space that perfectly complements the coastal charm of this beautiful region. We have also tied in a few must-haves that are trending the last few years that will make organizing your space a breeze. So, let's dive right into some fantastic features you can include in your next renovation plans.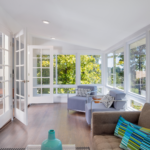 Sunroom Oasis:
Embrace the breathtaking Florida and Alabama sunshine with a sunroom addition that brings the outdoors in. Imagine sipping your morning coffee while basking in the golden rays or hosting a delightful sunset soiree with friends. Add large, panoramic windows to maximize views of the lush surroundings and consider incorporating sliding glass doors for that seamless transition to your outdoor space. Here's some inspiration to get you started: Sunroom Ideas.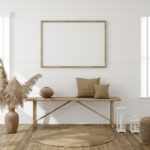 Coastal-inspired Flooring:
To truly capture the essence of the Emerald Coast, opt for coastal-inspired flooring materials. Weathered "beachy" hardwood, light-toned tiles resembling sand or a rocky texture, or even eco-friendly bamboo can add a touch of beachy vibes to your interiors. Add a splash of color with a few seaside colors like soft hues of greens, blues, and yellows – you can't go wrong! Don't forget to throw in some stylish area rugs to tie the coastal theme together. Here are a few design elements to help get you started: Coastal Flooring Trends.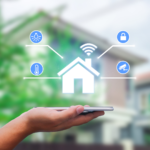 Smart Home Technology:
Elevate your home's functionality and convenience with smart home features. From smart thermostats and lighting systems that adjust automatically to suit your preferences to voice-controlled virtual assistants that manage various tasks, the possibilities are endless. Have you seen the latest in touchless doorbells? Take a look at these cutting-edge smart home devices that will elevate your home-enjoying experience and are sure to impress your friends: Top Smart Home Gadgets.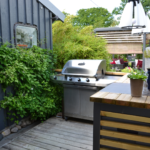 Relaxing Outdoor Retreat:
Make the most of the coast's year-round pleasant weather by creating an inviting outdoor retreat. Incorporate a cozy seating area with plush cushions, install a pergola for shade, and don't forget to add some tropical plants and flowers to enhance the ambiance. Add an outdoor kitchen area just right for your BBQ or flat top grill or a panel fence for some added privacy while relaxing. Here's some inspiration on designing your perfect outdoor space: Outdoor Living Ideas.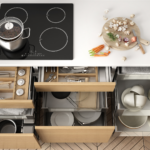 Gourmet Kitchen Delight:
Upgrade your culinary experience with a gourmet kitchen that inspires your inner chef. Consider installing a spacious island with a built-in wine cooler, under the counter refrigerator drawers, and ample storage inserts for all your cooking essentials like spices and cutting boards. turn previously dead corner space into an incredibly organized area with innovative pull-out lazy-susan inserts. Check out these kitchen trends for inspiration: Kitchen Design Trends.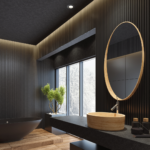 Tranquil Spa Bathroom:
Create a personal oasis in your home with a spa-inspired bathroom. Incorporate a luxurious freestanding bathtub, a rainfall showerhead, and some calming scents to set the mood for relaxation. Latest trends are using black bathroom fittings and tile while also incorporating the greenery of nature and wood finishes. Don't forget to add some stylish yet functional storage solutions to keep your bathroom clutter-free. Here's are some great ideas for spa-like bathrooms: Spa Bathroom Ideas.
We hope these brilliant renovation ideas have ignited your creativity and got you excited about transforming your Emerald Coast home. Remember, a well-planned renovation can not only enhance your living experience but also add significant value to your property.
If you're looking for professional assistance in finding your dream home or investment property on the Emerald Coast, don't hesitate to reach out to Pointe South Rentals & Real Estate. Our team of experts is here to guide you every step of the way.
Happy renovating coastal friends! ????
Looking for a home along the coast to make your own? Call or email us today to begin your home search!
Call us at 850.492.1148 or email us at contact@pointesouth.com
---