Tuesday, April 25, 2023 / by Alicia Vidal
Container gardening is a great way to bring the beauty of nature to your condo or small patio. With the right plants and containers, you can create a beautiful and thriving garden, even in the smallest of spaces. Here are some of the benefits of container gardening for condos and small patios:
Space-Saving
One of the most significant benefits of container gardening is that it saves space. In a small patio or condo, there may not be much room for a traditional garden. Container gardening allows you to grow plants in a limited space by utilizing containers of various sizes and shapes. You can also use vertical gardening techniques to make the most of your available space.
Easy to Manage
Container gardening is much easier to manage than a traditional garden. You can easily move containers to different locations to adjust to changing sunlight conditions. This makes it easier to grow a wider range of plants, as you can move them to different areas depending on their needs. Additionally, they require less weeding and pruning than traditional gardens.
Customizable
Container gardening allows you to customize your garden to your liking. You can choose planters that match your decor and pick plants that fit your style and preferences. You can also grow a variety of plants including vegetables, herbs, and flowers, all in the same area. This allows you to create a multi-functional garden that meets your needs. Choose the right plants: Not all vegetables are well-suited to growing in small spaces, so choose plants that don't require a lot of room to grow. Some great options include cherry tomatoes, leafy greens like lettuce and spinach, herbs like basil and cilantro, and root vegetables like carrots and radishes.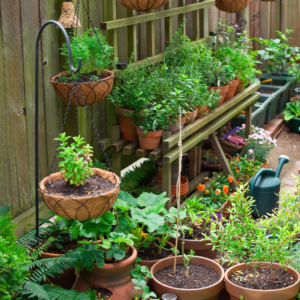 Need inspiration on what types of containers to use? Check out Amazon's Most Wished For in Gardening Pots
Health Benefits
Growing your own food is a great way to promote a healthy lifestyle. With container gardening, you can grow your own vegetables and herbs, ensuring that you are getting fresh and organic produce. This can save you money, reduce your carbon footprint, and help you eat a healthier diet.
Improves Air Quality
Plants are natural air purifiers and can help to improve the air quality in your condo or small patio. By growing plants indoors or on your patio, you can help to reduce air pollutants, such as formaldehyde and benzene. This can help to improve your overall health and wellbeing.
Here are three ideas for your container garden:
Vertical Gardening
One of the best ways to make the most of your space is to go vertical. Vertical gardening is a technique that involves using walls, fences, or trellises to support climbing plants. You can use a variety of different containers for this technique, from hanging baskets to pots with trellises. Some of the best plants for vertical gardening include tomatoes, cucumbers, beans, and peas.
Herb Gardening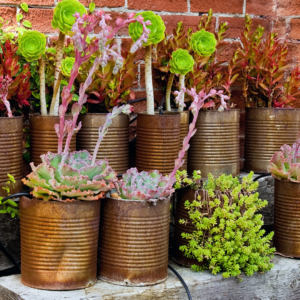 Growing herbs in containers is a great way to enjoy fresh herbs all year round, regardless of the season. Herbs are also relatively easy to grow, making them an ideal choice for beginner gardeners. Some of the best herbs for container gardening include basil, parsley, thyme, and rosemary. Make sure to choose a pot with good drainage and use a high-quality potting mix to help your herbs thrive.
Succulent Gardens
Succulents are a popular choice for containers because they are low-maintenance and come in a variety of different colors and shapes. In addition, succulents prefer well-draining soil and can be planted in almost any type of container, including pots, hanging baskets, and even teacups. Some of the best succulents for container gardening include echeverias, sedums, and hens and chicks.
No matter which type of container gardening you choose, make sure to choose the right container for your plants, use high-quality potting soil, and water your plants regularly. With a little bit of care, you can create a beautiful and thriving garden in even the smallest of spaces from a condo balcony in Gulf Shores, AL to you home's front porch in Pensacola, FL
Call or email us today to begin your search!
Call us at 850.492.1148 or email us at contact@pointesouth.com
---