Tuesday, May 16, 2023 / by Alicia Vidal
If you're looking for a peaceful addition to your outdoor space, a koi pond might be the perfect choice for you. Not only are they beautiful and serene, but they can also add value to your property and provide a habitat for fish and other aquatic creatures. In this article, we'll explore some of the benefits of a koi pond and provide you with some tips on how to install one in your own backyard.
Benefits of a Koi Pond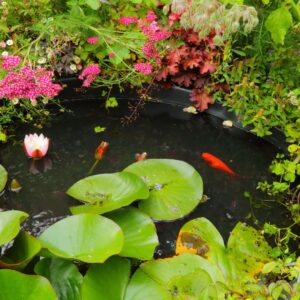 Aesthetically Pleasing – A koi pond is an attractive addition to any backyard, with its tranquil water, lush foliage, and beautiful fish. It can serve as a focal point of your landscaping, adding a sense of calm and serenity to your outdoor space.


Improved Air Quality – Water features such as koi ponds can improve the air quality in your yard by releasing oxygen and absorbing carbon dioxide. This can create a healthier environment for you and your family to enjoy.


Natural Mosquito Control – Koi fish are known to eat mosquito larvae, which can help to reduce the number of mosquitoes in your backyard. This can be especially helpful during the summer months when mosquitoes are at their peak.


Educational Opportunity – A koi pond can provide an opportunity to teach your children about aquatic ecosystems and the importance of caring for living creatures. It can be a fun and educational experience for the whole family.


Here is a link that might be a little inspiration to help you get started.
How to Install a Koi Pond


Determine the Size and Location – The first step in installing a koi pond is to determine the size and location of your pond. You'll want to choose a spot that receives at least 4-6 hours of sunlight per day and is relatively level. The size of your pond will depend on how many fish you plan to keep, but a good rule of thumb is to have at least 250 gallons of water for every koi fish.


Excavate the Area – Once you've chosen the location for your koi pond, you'll need to excavate the area. This can be done by digging a hole in the ground or using a pre-formed pond liner. Be sure to make the pond at least 3 feet deep to provide adequate space for your fish to swim and hide.


Install the Pond Liner – If you're using a pre-formed pond liner, you'll need to install it in the excavated area and make sure it's level. If you're using a flexible liner, you'll need to carefully lay it in the excavated area and smooth out any wrinkles or folds. Be sure to leave some excess liner around the edges of the pond to allow for settling and adjustments.


Add Filtration and Circulation – In order to keep your koi pond healthy, you'll need to add a filtration system and a circulation pump. The filtration system will help to remove debris and harmful toxins from the water, while the circulation pump will keep the water moving and oxygenated. Be sure to choose a filtration system that's appropriate for the size of your pond and the number of fish you plan to keep.


Add Rocks and Plants – Once your filtration and circulation systems are in place, you can add rocks and plants to your pond. This will help to create a natural environment for your fish and provide hiding places for them. Be sure to choose plants that are appropriate for your climate and the depth of your pond.


Introduce Your Fish – After your pond is set up and the water has had a chance to stabilize, you can introduce your koi fish. Be sure to acclimate them slowly to the new environment by floating their bag in the water for several hours before releasing them into the pond. Monitor your fish closely for the first few weeks to make sure they're adjusting well to their new home.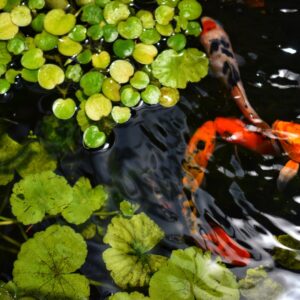 In conclusion, a koi pond can be a beautiful and beneficial addition to any backyard. Not only does it add a sense of peace and tranquility, but it can also improve air quality, provide natural mosquito control, and serve as an educational opportunity for the whole family. If you're interested in installing a koi pond, be sure to carefully plan the size and location, excavate the area, install a filtration and circulation system, and add rocks and plants before introducing your fish. With a little bit of effort and patience, you can create a stunning and peaceful oasis in your own backyard.
Additionally, a well-designed and maintained koi pond can be a valuable addition to your home, adding equity and increasing its resale value. A koi pond can create a unique and eye-catching feature that can set your home apart from others on the market. Potential buyers may appreciate the added tranquility and aesthetic appeal of a koi pond, which can be a major selling point. Additionally, a koi pond can demonstrate the care and attention to detail that you've put into your property, which can make it more attractive to potential buyers. Overall, a koi pond can be a smart investment in your home's value and appeal.
Don't forget to lean on your Pointe South agent to help guide you through the process if you have questions.
Call or email us today to begin your search!
Call us at 850.492.1148 or email us at contact@pointesouth.com
---